Hues ready to freshen it up for spring?
An old and tired color scheme can throw some serious shade on your business.  Let the sun shine in with the top picks from Pantone for Spring/Summer 2021.  
Unless you've been living under a rock – who hasn't felt that way at least once this past year – you've probably heard of the Pantone Color of the Year. For 2021 the color forecasting folks, perhaps knowing we could all use a little bonus gift (or to make up for saddling us with a buzz-killing 'blue' in 2020), announced not just one but two colors – Ultimate Gray and Illuminating (a sunny yellow).
Pantone says this "marriage of color," sends "a message of strength and hopefulness that is both uplifting and enduring." Exactly what we all need right now, right?
But before you go saturating everything from your website background to your business card in these two "rock solid" and "warming and optimistic" shades know that Pantone has actually released three whole palettes of color trend highlights for Spring/Summer 2021.
Here's how to use these hot new hues of the season to up your design game, get your clients in the mood and sell yourself – all without saying a word.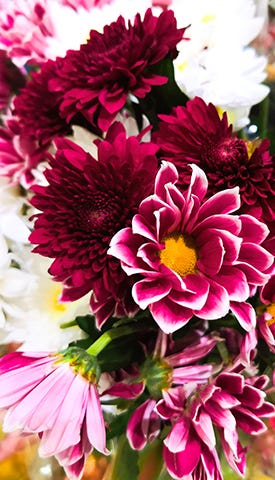 Summer Bouquet
The Palette
Party Pink, Blush Beauty, Winery, Pink Suede, Little Piglet, Pepper Stem and Meringue.
Pantone says
"Pale hazy petals combine with exotic pinks and an herbal green to create a fresh summer palette that celebrates the positivity and happiness of colors from nature."
The feels
Optimistic. Expectant. Joyful. Fresh. Alive. Appeal to clients who want the best of both worlds: Sophisticated but not snobby. Elegant but not elitist. Head happily in the clouds but feet firmly on the ground.
We love these colors for …
a wedding planner, a florist, a garden business, an interior designer, a beauty brand, an aesthetician, a boutique hotel, an upscale organic baby atelier.
Intoxicating
Fairy Wing, Carnival Glass, Lemon Fizz, Dreams of Cotton, Tomatillo, Silence.
Pantone says
"A vibrant yellow, sweetly scented lavender, fragrant pink and a cool green combine to create a dynamic contrast with a crisp aqua. A creamy white adds freshness."

The feels
Calm, Centred, Composed. Inhale. Exhale. Customers will linger on your landing page just to stop and smell the lavender and soak up all that chill.
We love these colors for …
a naturopath, a spa, a beach resort, a yoga studio, a wellness retreat, a dentist, or a winery (of course!).
Power Surge
The Palette: Red Maple, Nobility, Iced Mango, Boudoir Red, Lime Zest, Siesta, Pepper Stem, Fairy Wing.
Pantone says: "A pair of empowering pinks enrich a palette of vibrant brights, infusing glamour to a story of vivid contrasts."
The feels
Bold. Upbeat. Adventurous. Creative. Chic. Au courant. With this kind of I-can-conquer-the-world confidence clients can help but want to tag along for the ride.
We love these colors for …
an artist, an art gallery, a dance studio, an edgy hair salon, a modern taco bar, a fusion restaurant.
Carly Krug is a freelance writer, and former lifestyle reporter for 24 Hours newspaper, whose work has appeared in Flare, Elle, House & Home and TV Guide.